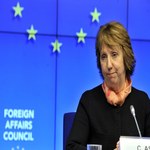 The Foreign Affairs Council of the European Union issued a Press Release today concerning its Russia sanctions, stating that:
1) The grounds for the imposition of restrictive measures against the Russian Federation "remain valid". The restrictive measures taken by the EU are "directly linked to the Russian Federation's violation of international law with the illegal annexation of Crimea and the destabilisation of Ukraine."
2) The Council, with the Commission and the High Representative of the Union for Foreign Affairs and Security Policy and Vice-President of the European Commission, remain "engaged in the monitoring and assessment of these measures" and "ready to consider further steps, in light of the evolution of the situation on the ground."
3) The Council also stated that the EU "regrets the Russian Federation's announcement of measures targeting imports of certain agricultural products originating in the EU. The Council welcomes the exchange of information organised by the Commission to assess the impact of these measures and the appropriate response and looks forward to continuing work in this respect."  An extraordinary meeting of the Agriculture and Fisheries Council has been convened for early September.
4) "In order to ensure the unity of the international community and to uphold international law, the European Union expects third and candidate countries to refrain from measures which are aimed at exploiting new trading opportunities arising from the introduction of these measures."